FAQ
How do I use this thing?
Go to your Poshmark, Depop (or any other supported platform) shop. A little

icon should be displayed in the top left corner of any listing. Clicking on it opens a new tab where a draft of the listing is created on your target platforms. You should review this draft carefully, and if you are happy with it, submit it.
What to do if the icon not showing up?
Doing a hard refresh (Ctrl+Shift+R on Windows, Cmd+Shift+R on Mac) might work. Restarting the browser also might help. If neither of these help, try this experimental webpage: https://www.crosslistmagic.com/crosslist
How much does this cost?
See pricing.
Which platforms are supported?
| Platform | Crosslist from | Crosslist to |
| --- | --- | --- |
| Depop | Yes | Yes |
| eBay | Yes | Yes |
| Etsy | Yes | Yes |
| Facebook | Yes | Yes |
| Mercari | Yes | Yes |
| Poshmark | Yes | Yes |
| Shopify | Yes | Yes |
| Vinted | Yes | Yes |
Are international versions of above platforms supported?
Australian, Canadian and UK versions of the above platforms are generally available. Support for vinted.fr is not yet available.
How do I access the extension's settings?
Click on the little

icon in the top right corner of your Chrome. If the icon is not visible, you might need to click on the

icon first.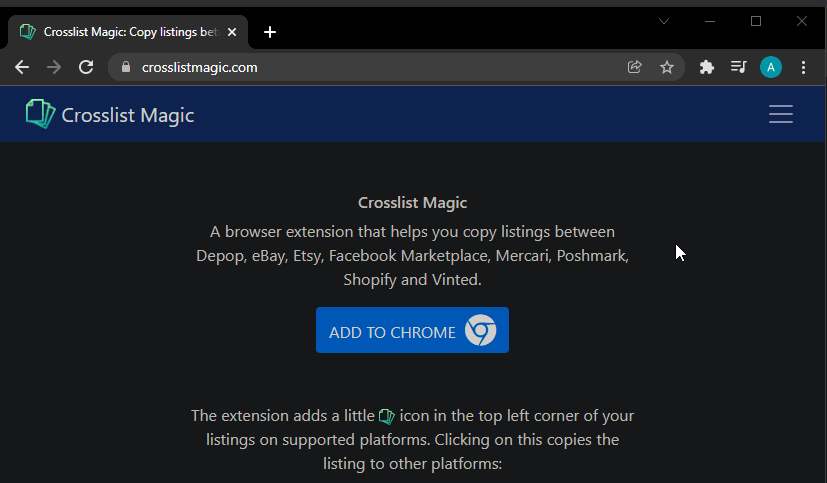 Is there a limit on how many items I can cross-list?
No, you can cross-list as many items as you want.
How can I hide the icon on the listings?
Uncheck the "Show

icon on platforms" checkbox in the extension's settings.
How do I crosslist from Facebook?
Go to https://www.facebook.com/marketplace/you/selling
You should see the

icon appearing in the top left corner of your listings. Click these to start copying to other platforms.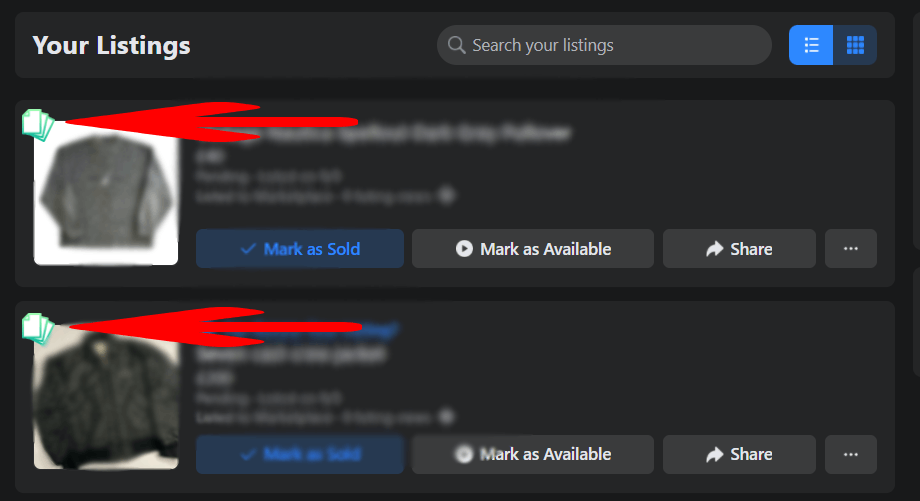 How do I crosslist to Shopify?
To enable crosslisting to Shopify first you will need to select Shopify in the extension's settings: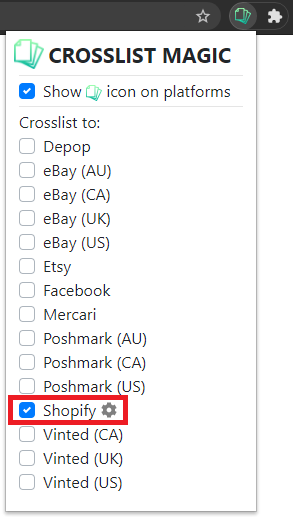 Selecting the Shopify option should present you with a form that asks you to enter your shop's name. Your shop's name is the first part of the URL that you use to access your Shopify shop. For example, if your shop is accessible at https://example.myshopify.com/, then you should enter "example" as your Shopify shop's name and click the "Save" button: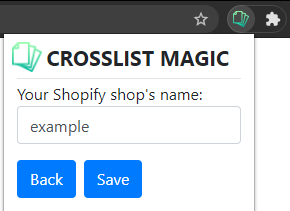 Now go to whichever listing you want to copy to Shopify and click the

on the listing. This should start copying the listing to your Shopify store.
How do I crosslist from Shopify?
In the Shopify admin view, go to the desired product. Bring up the Crosslist Magic popup and click on the "Crosslist!" button: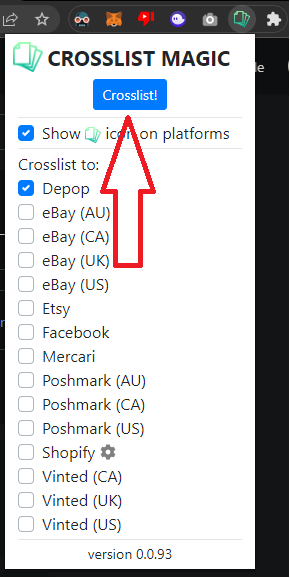 How do I know which version I'm running?
Open the extension popup. The version number is at the bottom: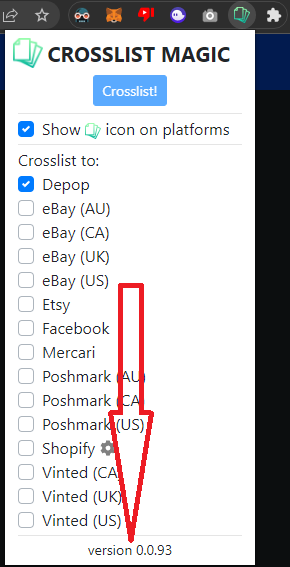 I still have more questions!
Please send an email to crosslistmagic@gmail.com